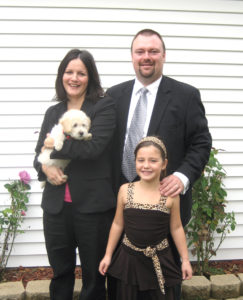 Our first Australian Labradoodle was sought out after we discovered that we would not have to worry about the allergies that had affected us in the past. We needed a friendly loving pet that did not shed. We found the Australian Labradoodle and Goldendoodle and life has never been the same!
We loved our first Labradoodle "Ruffa" so much that within a year, we adopted "Taner" who is our Mini Australian Labradoodle. We are a very active family and our Doodles go everywhere with us-including to work (owning our own magic and costume shop makes it so easy!)
They are not just our dogs they are members of our family! We call and refer our doodles as "the children" as they are OUR children! Our Australian Labradoodles and Goldendoodles are extraordinarily intelligent and they learned our family routines very fast.
They were so good with children that we could not help but tell everyone we knew about these wonderful additions to our family. That's when we decided that we would assist other families in adopting and enjoying the luxury of having an Australian Labradoodle and or Goldendoodle as part of their family. 
Along came Chloe our beautiful stunning standard size Australian labradoodle breeder girl who was the foundation to our breeding program! Then we incorporated wonderful guardian home families into our program to assist us. All of our dogs are our precious angles that we love and adore more than words can tell! We invest many hours with our dogs, puppies and families as we put a little piece of ourselves into each and everyone of our dogs and puppies!
Our family founded Midwest Labradoodle and Midwest Goldendoodle to provide the highest quality Multi Gen Australian Labradoodles and Goldendoodles. Midwest Labradoodle and Midwest Goldendoodle not only provides the very best Australian Labradoodles and Goldendoodles in the Midwest but also Australian Labradoodles and Goldendoodles for anywhere in the United States!
Midwest Labradoodle is in Kenosha, Wisconsin located in the heart of the Midwest between Milwaukee, WI and Chicago, IL. Our family loves Labradoodles and Goldendoodles and it is our team effort that enables us to provide the highest quality Australian Labradoodle and Goldendoodle Puppies for you and your family.
What started out as a love for our own Australian Labradoodles and Goldendoodles has become one of our life's biggest passions! We are overjoyed that God has blessed us with the assistance and encouragement from Dave and Teresha www.tereshalee.com our angels, our friends and our dear family in Christ.
Thank you and God bless you both for making Midwest Labradoodle and Midwest Goldendoodle a reality. We have been very blessed doing what we love for the last 10 years and plan on doing it for many, many more… God is good!
Feel  free to Contact us if you would like to learn more!